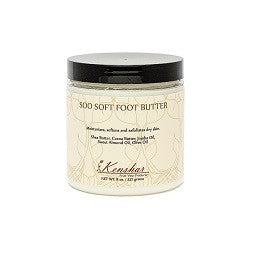 Soo Soft Foot Butter
$ 16.00
Soo Soft Foot Butter moisturizes and softens your feet and exfoliates rough surfaces using natural ingredients. Use on elbows, knees and full body as a moisturizer. 
Benefits: Effective in removing dead skin build up on your feet and maintaining skin softness. Natural oils absorb into the feet leaving feet silky and non-greasy. See and feel a physical difference in your feet in less than a week. 
Ingredients: Butyrospermum Parkii (Shea) Butter, Theobroma Cacao Seed ( Cocoa) Butter, Simmondsia Chinensis Seed ( Jojoba) Oil, Prunus Amygdalus Dulcis (Sweet Almond) Oil, Olea Europaea (Olive) Oil, Citrus Paradisii (Grapefruit) Oil, Water, E-wax, Glycerin, Stearic Acid, Willow Bark Extract, water, Polysorbate 80, preservative (Phenoxyethanol). 
Net WT: 8 oz. 
Scent: Grapefruit
Sample available with order. Request by adding note to your order. Limited to one per order.  
Kenshar products are free of Parabens, Mineral Oil, Petroleum, Sulfates and Artificial Color.
Warning: Due to the butter and oil content of this product, it may melt during shipment in warmer temperatures (above 80 degrees). The product will re-solidify at room temperature. Stir occasionally for original consistency.