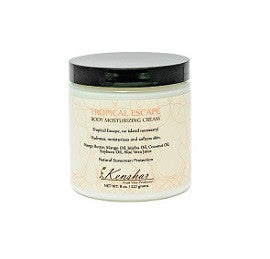 Tropical Escape Body Moisturizing Cream
$ 16.00
Tropical Escape Body Moisturizing Cream provides deep hydration, moisturizes and softens skin. 
Benefits: Tropical Escape is made with Mango Butter which provides good lubricity to skin and leaves skin silky and soft. The Jojoba oil improves elasticity and suppleness. The Mango fragrance is reminiscent of a tropical vacation. 
Ingredients: Mango Butter, Mango Oil, Simmondsia Chinensis Seed ( Jojoba) Oil, Cocos Nucifera (Coconut) Oil, Glycine Soja (Soybean) Oil, Aloe Vera Juice, EmulsifyingWax NF ( E-wax), Glycerin, Carya Illinoensis (Stearic Acid), Polysorbate 80, Phenoxyethanol ( preservative). 
Net WT: 8 oz. 
Scent: Mango 
Kenshar products are free of Parabens, Mineral Oil, Petroleum, Sulfates and Artificial Color.
Warning: Due to the butter and oil content of this product, it may melt during shipment in warmer temperatures (above 80 degrees). The product will re-solidify at room temperature. Stir occasionally for original consistency.