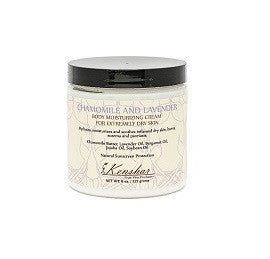 Chamomile and Lavender for Extremely Dry Skin Body Moisturizing Cream
$ 16.00
Chamomile and Lavender Body Moisturizing Cream for Extremely Dry Skin….hydrates, moisturizes and soothes inflamed, very dry skin, burns, eczema and psoriasis. 
Benefits: The Chamomile Butter, Lavender and Bergamot Oils provide natural antiseptic and healing relief to dry skin conditions. 
Ingredients:(Chamomile Butter Blend) Prunus Amygdalus Dulcis (Sweet Almond) Oil (and) Chamaemelum nobile extract (and) Hydrogenated Vegetable Oil, Lavendula Officinalis (Lavender) Oil, Citrus Bergamia (Bergamot) Oil, Simmondsia Chinensis Seed ( Jojoba) Oil, Glycine Soja (Soybean) Oil , H2O ( Water), Emulsifying wax NF ( E-wax), Glycerin, Carya Illinoensis (Stearic Acid), Polysorbate 80, Phenoxyethanol ( preservative). 
Net WT: 8 oz. 
Scent: lavender
Aromatherapy: relaxation, calming, encourages gentleness, helpful with insomnia
Sample available with order. Request by adding note to your order. Limited to one per order. 
Kenshar products are free of Parabens, Mineral Oil, Petroleum, sulfates and Artificial Color.
Warning: Due to the butter and oil content of this product, it may melt during shipment in warmer temperatures (above 80 degrees). The product will re-solidify at room temperature. Stir occasionally for original consistency.