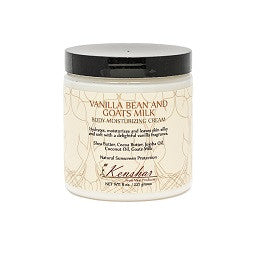 Vanilla Bean and Goats Milk Body Moisturizing Cream
$ 16.00
Vanilla Bean and Goats Body Moisturizing Cream provides deep hydration, moisturizes and softens the skin. 
Benefits: Goats Milk that is high in protein and excellent natural moisturizer. The Jojoba oil improves elasticity and suppleness. It contains vitamin A, B6, B12 and E which all help to hydrate and nourish dry skin. Vanilla Bean and Goats Milk Body Moisturizing Cream absorb into the skin leaving the body silky and non-greasy. 
Ingredients: Butyrospermum Parkii (Shea) Butter, Theobroma Cacao Seed ( Cocoa) Butter, Cocos Nucifera (Coconut ) Oil, Simmondsia Chinensis Seed ( Jojoba) Oil, Olea Europaea (Olive) Fruit Oil, Vanilla Bean Fragrance Oil, Goats Milk Powder, H2O ( Water), Emulsifying wax NF ( E-wax), Glycerin, Carya Illinoensis (Stearic Acid), Polysorbate 80, Phenoxyethanol ( preservative). 
Net WT: 8 oz.
Scent: Vanilla Bean
Aromatherapy: Vanilla is a sensual fragrance, promotes a sense of inner peace and relaxation, enhances intimacy 
Kenshar products are free of Parabens, Mineral Oil, Petroleum, Sulfates and Artificial Color.
Warning: Due to the butter and oil content of this product, it may melt during shipment in warmer temperatures (above 80 degrees). The product will re-solidify at room temperature. Stir occasionally for original consistency.